Welcome To Vancouver
A cosmopolitan city right on the edge of nature, Vancouver makes it easy to combine an urban getaway with outdoor adventure. From family-friendly fun to thrill-seeking exploits; from marine exploring to mountaintop luxury, you'll find plenty of things to do in Vancouver. Majestic mountains, sparkling ocean, rainforests and beautiful foliage throughout all four seasons make Vancouver one of the most beautiful cities in the world. Enjoy world class shopping, gourmet meals, outstanding live entertainment, outdoor adventure, spectacular sights and attractions – it's all waiting for you in Vancouver.
One of Vancouver's top attractions is nothing more than a paved pathway that stretches some 28 km (17.5 miles) around the city's waterfront. As you make your way along the route, every corner reveals a different breathtaking view – the majestic North Shore Mountains, the Lions Gate Bridge arching into West Vancouver, the sandy beaches of English Bay, the First Nations inukshuk statue that inspired the Vancouver 2010 Olympic logo, the glittering downtown Vancouver skyline, and the sun high over Burrard Inlet. Within walking of the hotel is Vancouver's oldest neighbourhood, Gastown dated back to 1867. Today, the district retains its historic charm and independent spirit. Victorian architecture houses a thriving fashion scene, impeccably curated décor boutiques, one-of-a-kind galleries and some of the best culinary fare in Vancouver.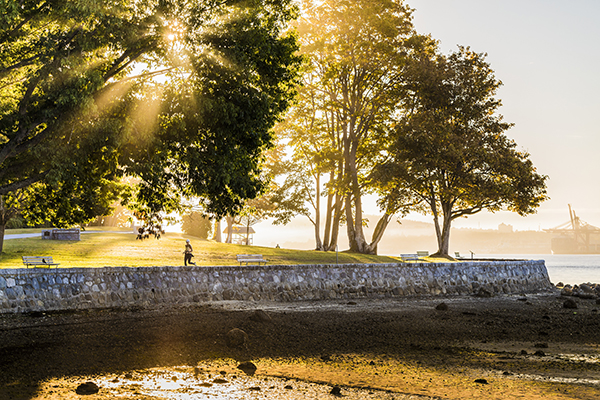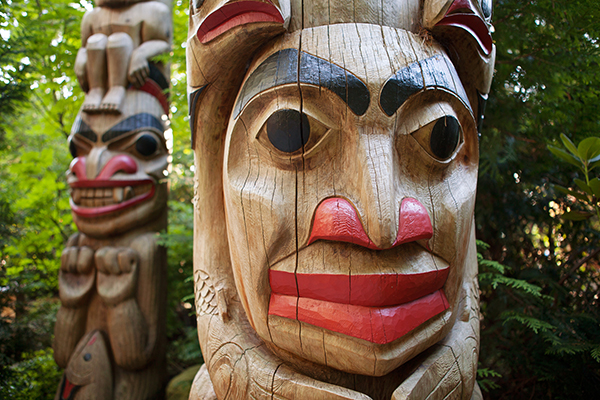 Getting To Vancouver
Train
Make the journey part of the adventure by taking the train to Vancouver! Travel across Canada on VIA Rail's transcontinental service running from Vancouver to Toronto, via Jasper, three times per week, year-round. Or take in the best of BC and Alberta with a Rocky Mountaineer two-day rail tour, offered from April through October. If you're heading to Vancouver from the U.S., consider the Amtrak Cascades route between Eugene, Oregon and Vancouver, via Portland and Seattle.
Air
If you're arriving by air, you'll most likely be flying into Vancouver International Airport (YVR). Located just 25 minutes from downtown, YVR is consistently rated one of the best airports in North America. There are more than a dozen international flights in and out of YVR every day, with 22 bound for the United States. For an estimate of how long it might take to fly to Vancouver, see the international flying times map here 
Getting To and From the Airport
Taxi
If you're taking a taxi from the airport to your hotel after arriving at YVR, use one of the taxi stands located on Level 2. Taxis operating from the airport are licensed, and will use a zoned fare rate that will depend on your destination. 
Public Transit
The SkyTrain's Canada Line provides rapid rail service linking YVR to downtown Vancouver and parts of Richmond. Trains leave the airport station approximately every seven minutes during most times of the day. There are 16 stops along the line, with downtown Vancouver stops including Yaletown, Vancouver City Centre and Waterfront—the terminus for the line.
The trip from YVR to downtown Vancouver takes only 26 minutes on a two zone fare of $4.45, plus the $5.00 Canada Line YVR AddFare. Check the TransLink website for maps, schedules and fare information.
Getting Around
Attractions, shopping, outdoor activities – everything you want to do and see in Vancouver is easily accessible – within walking distance, a short drive, quick ferry ride or convenient trip on our local transit system.
Vancouver is known for being a very walkable city with a compact downtown core, so you'll likely find many of the places you want to go are just a short walk from the Meeting venue.
Taxis (including accessible wheelchair taxis) are plentiful and can be hailed on the street, as well as found at designated stands, and called for pick-up. If you prefer to drive yourself around, you'll find that most major car rental companies have offices in Vancouver.
Visit Vancouver Transit System page for more information about using Vancouver's public transportation system to get around.
New To Vancouver?
Never been to Vancouver?  Check those two websites which will give you all the information about interesting places, dining, current attractions, and much, much more!
October Weather in Vancouver
Warmed by Pacific Ocean currents and protected by a range of mountains, Vancouver's weather is mild year-round. Temperatures get cooler in the fall, but the changing colour of the leaves and the start of the entertainment season make it a spectacular time to visit. 
Average high is 14 °C, average low 8 °C
Thank you to our Sponsors