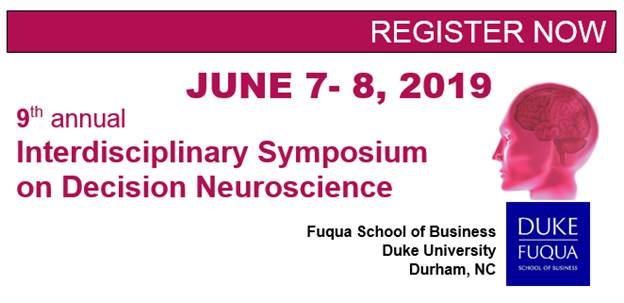 On June 7–8, 2019, Duke University will host the Ninth Annual Interdisciplinary Symposium on Decision Neuroscience (ISDN19) at the Fuqua School of Business.
Registration fees for the ISDN19 increase on May 5th, 2019. Please reserve your discounted hotel room at the  JB Duke Hotel soon, as any remaining rooms in the discounted room block will be released to the public on May 8th  and rates will likely increase substantially.
For more information, please visit our conference website https://www.isdnconf.org/ or contact us at .
Conference Committee
Angelika Dimoka, Temple University
Uma Karmarkar, University of California, San Diego
Crystal Reeck, Temple University
Vinod Venkatraman, Temple University
Local Organizing Committee
Gavan Fitzsimons, Duke University
Gregory Samanez-Larkin, Duke University
Advisory Committee
Drazen Prelec, MIT
Carolyn Yoon, University of Michigan